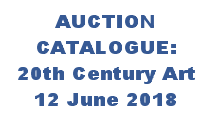 CATALOGUE:  fully illustrated - is online here --------------> 

BIDDING:  live online - via www.the-saleroom.com

                        + commission bids, etc.

VIEWING:  see catalogue

RESERVES:  if any, are set:

                     at or below lower estimate

FEATURED  ARTISTS:  see Featured Artists page

      MODERN  ART  AUCTIONS

The next auction will take place on:

             7 June 2017 at 2 pm

We are seeking lots for our next auction in June  - particularly paintings, sculpture, drawings and prints by modern British artists

          Consignment deadline:

                  10 April 2017

  A FREE service to sellers of art

                0% commission



The last auction featured:

Numerous sculpture lots, including: Henry Moore, Eduardo Paolozzi, Michael Ayrton, Hubert Dalwood, Robert Clatworthy, Willi Soukop, etc.

Paintings include: an early John Tunnard, Victor Pasmore, John Hoyland, Carel Weight, Ruskin Spear, Betty Swanwick, etc.

A large collection of Keith Vaughan drawings, mainly from the Prunella Clough collection.

Other artists included:

John Minton, Robert Adams, Graham Sutherland, Alan Reynolds, Bernard Meadows, Geoffrey Clarke, Ceri Richards, Howard Hodgkin, etc.