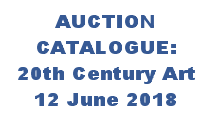 CATALOGUE:    fully illustrated - is online here -------------> 

BIDDING:    live online - via www.the-saleroom.com

                              + commission bids, etc.

VIEWING:    see catalogue

RESERVES:    if any, are set:

                         at or below lower estimate

FEATURED  ARTISTS:    see Featured Artists page

      MODERN  ART  AUCTIONS

The next auction will take place on:

         12 June 2018 at 2 pm

We are seeking lots for our next auction in November 2018  - particularly paintings, sculpture, drawings and prints by modern British artists

          Consignment deadline:

                 30 Sept 2018

  A FREE service to sellers of art

                0% commission



The last auction featured:

30 lots of works on paper by KEITH VAUGHAN [1912-77] from a private collection - JOHN PIPER prints - a large private collection of sculpture by WILLI SOUKOP R.A. and a large collection of original theatre designs by LESLIE HURRY [1909-78] and: paintings, sculpture, drawings and prints by: 

Wyndham Lewis;

Josef Herman;

Michael Ayrton;

William Johnstone;

Robert Clatworthy;

John Hoyland;

Alan Reynolds;

Bernard Meadows;

Geoffrey Clarke;

Ceri Richards;

Leon Underwood;

John Armstrong:

Elisabeth Frink;

Maurice Cockrill;

Walter Sickert.  etc.....